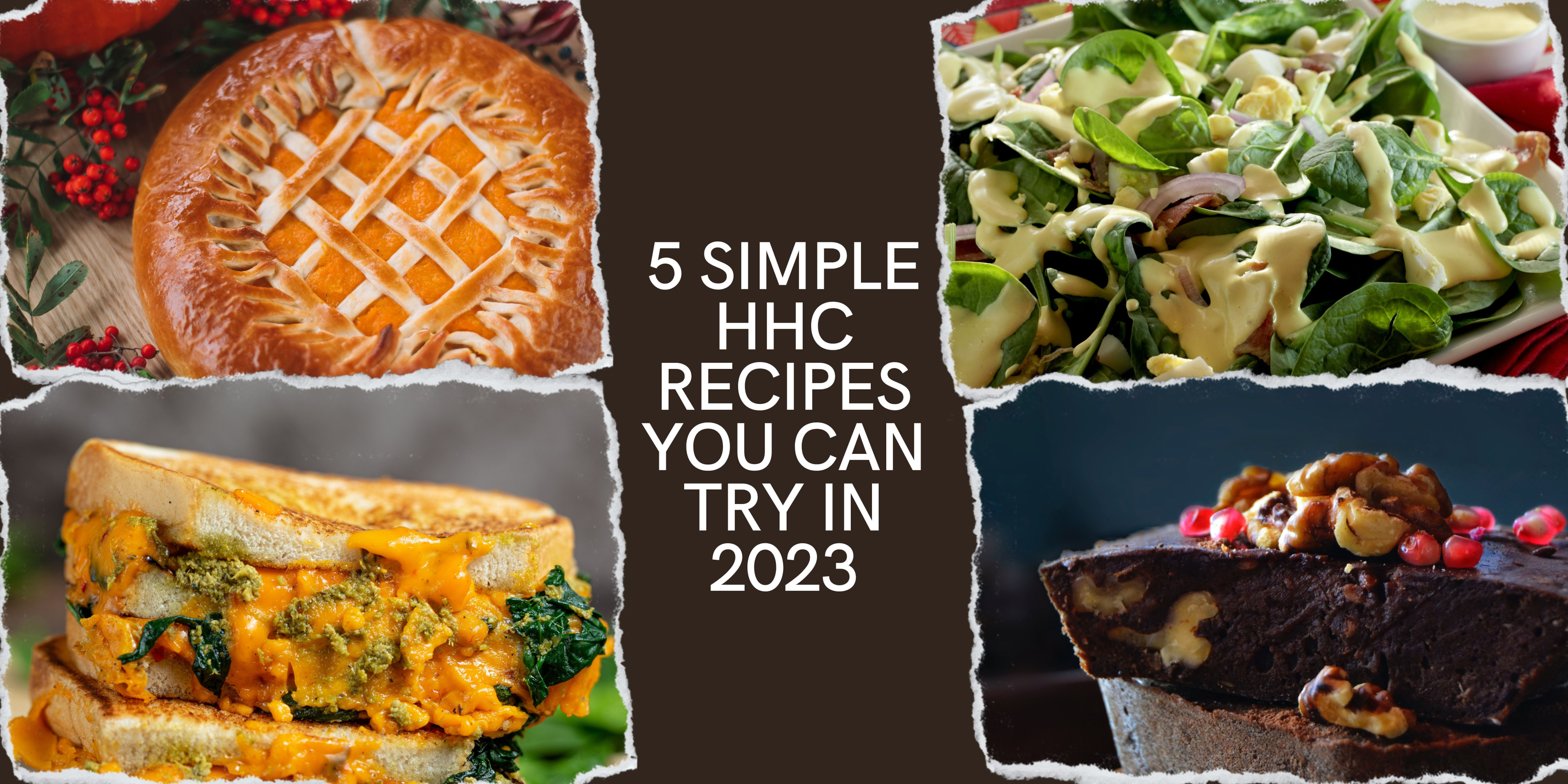 Hexahydrocannabinol, also known as simply HHC, is probably the next big thing in the cannabis industry. While you may be familiar with THC and CBD as the most popular cannabinoids, HHC is quickly catching up.
Although HHC was discovered back in the 1940s by chemist Roger Adams, it has only recently caught the attention of many. Today, numerous people are interested in giving HHC a go, so companies worldwide are creating all kinds of HHC products for their customers to enjoy.
If you want to try out HHC but are still determining whether you'll like it, preparing these top five HHC recipes is just what you need to do.
This post will explore 5 HHC-based lip-smacking recipes to try this year.
Image source: Unsplash
However, it's important to say a few things about HHC before we proceed to the recipes. Unlike THC, HHC is milder, so it won't produce the strong psychoactive effects commonly associated with cannabis.
HHC might have a range of potential medical applications, such as relief from pain, anxiety, and inflammation. It's also great for relaxation.
It provides a mild euphoric experience while also calming the body and mind. You can find HHC vape cartridges and edibles. However, you can also spice things up by adding HHC to your food and thus make delicious edibles.
There are countless HHC recipes available on the internet. Each recipe is different, so there's something for everyone. Whether you want to prepare a regular meal enriched with HHC or craving something sweet, we've got you covered with these top five suggestions.
HHC Apple Pie
Image source: Unsplash
If you're looking for a delicious dessert, apple pie is always a good idea. Make your version of an apple pie by adding some HHC goodness to the mixture.
What you'll need:
1/2 cup unsalted butter
3/4 cup sugar
2 tablespoons of all-purpose flour
1/2 teaspoon HHC extract
1/4 teaspoon cinnamon
3 cups thinly sliced apples (preferably Granny Smith)
How to prepare:
First, preheat the oven to 375 degrees. Combine cream, butter, and sugar in a large mixing bowl. Stir the mixture until it's soft, light, and fluffy. Then, add flour, HHC extract, and cinnamon into the mixture until thoroughly combined. Lastly, add the sliced apples to the mix and stir until coated.
Pour the dough into an ungreased 9-inch pie pan. Bake for 55–65 minutes or until the crust turns golden. Make sure the pie cools down before serving it.
Delicious HHC Brownies
Image source: Unsplash
Brownies are already a popular recipe among cannabis lovers, and HHC is another fantastic way to make your brownies more special. Here's an easy brownie recipe you'll love.
What you'll need:
1/2 cup butter
1 cup sugar
1/2 cup all-purpose flour
2 eggs
6 tablespoons of unsweetened cocoa powder
1/2 teaspoon HHC extract
1/4 teaspoon baking powder
1/4 teaspoon salt
How to prepare:
Preheat the oven to 150 degrees. Grease an 8×8 inch baking pan or use a baking sheet. Whisk sugar and butter in a bowl until the mixture turns soft, fluffy, and light. Beat in the eggs slowly. Next, stir in the HHC extract.
Use a separate bowl to mix baking powder, flour, and salt. Gradually add the butter mixture to the dry ingredient mixture and mix until combined. Then, add the cocoa powder, and your brownie batter is complete.
Pour the batter into the pan. Bake for approximately 25 minutes. Let the brownies cool down before you cut them into squares.
HHC Salad Dressing
Image source: Unsplash
Who says HHC is only a great addition to desserts? You can make plenty of healthy dishes with it, too, including this tasty but lightweight salad dressing.
What you'll need:
1/2 cup olive oil
¼ cup apple cider vinegar
1 teaspoon HHC extract
1 garlic clove, minced
Salt and pepper to taste
How to prepare:
Combine all your ingredients in a bowl or jar. Stir or shake well until all ingredients are well combined. Pour the dressing over your favorite salad and enjoy!
HHC Grilled Cheese Sandwich
Image source: Unsplash
A grilled cheese sandwich is a great breakfast, lunch, or dinner idea. It's quick and easy to make, yet the taste of it is unbeatable. Check out this HHC version of a grilled cheese sandwich.
What you'll need:
8 slices of bread
8 ounces of shredded cheddar cheese
1/4 cup HHC extract
Some butter
How to prepare:
Spread the butter across the bread slices on one side. Mix the HHC extract and the cheddar cheese in a separate bowl, then place the 4 slices of bread in a skillet, butter-side down. Put some of the cheddar cheese and HHC mixture on every slice, and add the remaining 4 slices of bread on top, butter-side up.
Cook on medium heat until both sides turn golden brown and crispy. Enjoy the sandwiches while they're warm!
HHC Chocolate Chip Truffles
Image source: Unsplash
Last but certainly not least, chocolate chip truffles are another great idea where you can add HHC.
What you'll need:
8 ounces of chocolate chips
1 tablespoon heavy cream
3 1/2 tablespoons butter or coconut oil
2 tablespoons vanilla extract
1 teaspoon HHC extract
Optional: ground almonds or shredded coconut for topping
How to prepare:
Warm the heavy cream without too much heat, so it doesn't reach the boiling point. Stir in the vanilla extract, butter, and chocolate chips. Mix until the chocolate melts completely.
Give the mix some time to cool before adding the HHC. Put the batter into the refrigerator for 30 minutes and stir it frequently as it cools down.
Once the dough is firm enough to form shapes, create bite-size balls with your hands. Finish the truffles by covering the balls with the selected topping and refrigerate before serving.
Image source: Unsplash
Conclusion
There are many ways to enjoy HHC. While you can purchase HHC bud, flower, or pre-rolled joint, you can also use the HHC extract to create some tasty meals. The five recipes discussed above are our favorites, and we're sure you'll enjoy them!
References
https://www.hawaiiarmyweekly.com/blog/top-5-hhc-infused-recipes-you-can-try-this-season/