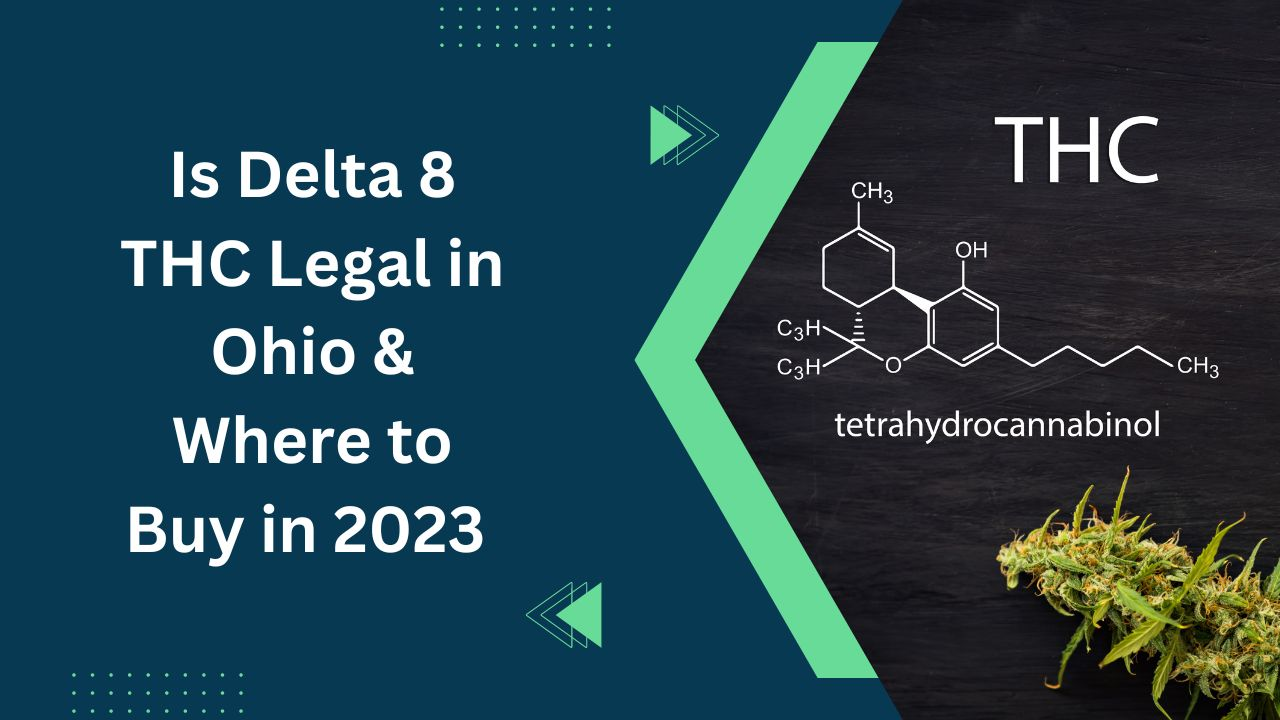 Since the moment Delta 8 THC hit the world's cannabis markets, it quickly turned into an unstoppable force. Fast forward to today, and you can see delta 8 THC in online stores and every reputable cannabis dispensary worldwide. However, despite its increasing popularity, there are still questions regarding its legal status.
Hemp-derived cannabinoids, including D8 THC and its products, are legal to manufacture, produce, distribute, sell, possess, and use in Ohio. The reason behind this is simple – the state of Ohio ensures full compliance with the 2018 Farm Bill.
The Farm Bill was a groundbreaking moment for the legalization of hemp-derived cannabinoids and medical marijuana on the federal level. Since it acts as a state and federal law, this legislation legalized the hemp plant and hemp products in Ohio.
https://unsplash.com/photos/rvOv9BwlPAM
Legal hemp products and hemp-derived compounds include salts, flavonoids, terpenes, cannabinoids, tetrahydrocannabinol, and all other hemp derivatives, including delta-8 THC.
Delta-9 THC is the only hemp product the federal government hasn't legalized on the state or federal level due to being labeled as a controlled substance with psychoactive effects. According to federal and state law, legal hemp can contain no more than 0.3% D9 THC.
Is delta 8 THC legal in Ohio?
https://unsplash.com/photos/qNWv6kvQqmw
Delta 8 THC is legal in Ohio. State and federal law allow for legal possession, use, and purchasing of delta-8, hemp-derived products in the state. Medical cannabis is also legal. However, there are some restrictions.
For example, you can't travel to Ohio with recreational marijuana-derived delta 8, but you can bring hemp-derived products containing delta 8 THC. Thankfully, delta 8 falls under the category of legalized cannabinoids and is found naturally in medical marijuana products.
That makes it technically legal in the Ohio department. Although there are no state legislative efforts to make delta-8 illegal in Ohio, DEA and state and federal law might see things differently and try to change its legality by proclaiming delta-8 THC a controlled substance.
Delta-8 legislation in Ohio
https://unsplash.com/photos/tD7QBSHcPbU
According to Ohio Senate Bill 57, organic hemp and hemp-derived cannabinoids such as CBN, CBD, and delta-8 THC are legal and in line with the Farm Bill and state law. Ohio residents got unrestricted access to hemp products within the state thanks to this bill.
The bill also removed delta-8 legalized hemp from the list of controlled substances, thus making Ohio medical marijuana legal across the state.
The legality of the medical marijuana program in Ohio
https://unsplash.com/photos/8I988w3ylrQ
Unlike medical marijuana, recreational marijuana isn't legal in Ohio. In 2016, medical marijuana was legalized by House Bill 523. Governor John Kasich signed the bill and laid the foundation for the state's medical marijuana program.
The program was designed to control the use of medical marijuana within the state to make it available to every patient with a medical marijuana card. Patients who need medical marijuana treatment can qualify for the card on a physician's recommendation based on health conditions, such as PTSD, hepatitis C, Alzheimer's, etc.
However, don't let all this confuse you. Although you can buy medical cannabis in Ohio, recreational marijuana-derived delta 8 THC is still illegal.
Hemp vs. marijuana
https://unsplash.com/photos/2p7Vtnn4cSM
Although hemp and marijuana contain the delta-8 cannabis compound, their plants have different chemical compositions. Because of that, marijuana-derived delta 8 THC receives a different treatment by federal law. Even though it's still illegal to use marijuana for recreational purposes in Ohio, things might change soon.
People and activists are raising their voices to put hemp legalization up for a vote on the next ballot. Until then, the only way to obtain marijuana legally in Ohio is through a prescription. However, that would require a medical marijuana card. Doctors can prescribe cannabis to you, but only if you have one of the qualifying conditions.
You must receive a licensed doctor's approval to qualify for a medical marijuana card and buy medical marijuana for therapeutic purposes from local vendors. Ohio is home to many medical marijuana processors, local vendors, smoke shops, and cannabis dispensaries. However, only a few head shops and CBD stores sell delta 8 THC.
Hemp-derived delta 8 THC
https://unsplash.com/photos/3m9c72wkbIU
Delta 8 THC is an isomer of tetrahydrocannabinol, also known as delta 9 THC. Since THC produces psychoactive effects, it bears the label of an intoxicating cannabis compound and is, therefore, prohibited by law. Delta 9 THC comes from the marijuana plant.
However, cannabis produces only 1% or less of delta 8 THC, making direct extraction rather expensive. Fortunately, the best hemp manufacturers found a way to cut extraction costs by producing delta 8 THC from the hemp plant.
Since organic hemp produces legalized cannabinoids in large quantities, such as CBD, it's a perfect source for extracting cannabidiol and converting it into legal delta 8 THC. Legal hemp products contain less than 0.3% THC and are legal across individual states.
Where to buy delta 8 THC in Ohio
https://unsplash.com/photos/wQHkAn4cVCw
If you're looking to buy delta 8 THC in Ohio, online stores like Astro Eight, local hemp shops, and vape stores are your best bet for a few reasons. First, they sell premium products discreetly at lower prices. You'll most likely find top-grade medical cannabis and hemp products with more cannabinoids than anywhere else in Ohio.
Online stores are also a trustworthy source of delta 8 THC in Ohio due to offering access to lab reports so you can ensure your hemp products are safe for consumption. Here are some tips to help you make an informed delta 8 THC purchase in Ohio.
Look for organic hemp products
https://unsplash.com/photos/_4lzXD58Nsw
Only buy organic products to avoid toxic substances and harmful chemicals. Like most plants, hemp is incredibly absorbent. It accumulates many substances from the environment, including pollutants, allergens, and toxins.
Organic hemp manufacturers use the best nutrients and farming practices to ensure compliance with safety standards. Therefore, look for pesticide-free, non-GMO hemp products.
Check the extraction method
CO-2 extracted delta 8 THC products excel in purity, quality, and potency. CO2 extraction is a natural method that yields top-grade delta 8 THC distillate.
Avoid bleaches
Many hemp manufacturers bleach their delta 8 THC products to increase purity and make them appear cleaner. Since bleach can harm your health, you should avoid bleached products and choose natural D8 distillate.
You'll know it by its slightly amber, almost pinkish color. Aside from making products unsafe for consumption, bleach can also temper the purity and quality of the delta-8 THC extract.
Check lab reports
Always check lab reports before you buy any hemp or marijuana product. A trustworthy and reputable manufacturer should keep lab reports and Certificates of Analysis transparent and easily accessible. Lab reports provide detailed insights into the chemical composition of the tested hemp products.
Third-party labs analyze various properties of hemp extracts, such as:
Purity levels
Terpene profiles
Delta 9 THC and CBD levels
Delta 8 THC potency
Presence of chemicals, metals, etc.
Laboratories test product samples to find impurities. If a product passes all tests, it receives a Certificate of Analysis (CoA).
Tap into user reviews
User and customer reviews are excellent sources of information that can help you identify the most reputable hemp manufacturers in your area. Gather insights on the most trustworthy cannabis companies and delta 8 THC brands.
Check their websites to see the selection of products and look for lab results and every other information you can find. Top-class delta-8 brands typically list customer testimonials to attract potential prospects.
Delta 8 THC is widely available in Ohio. You can buy it at gas stations, wellness centers, vape stores, head shops, hemp stores, and online dispensaries. However, we recommend buying D8 online, as it allows you to thoroughly check the vendor before trusting them with your safety and health.
Online hemp shops in Ohio
Many cannabis users prefer online hemp stores over brick-and-mortar shops due to many advantages:
Better selection – online dispensaries provide a more comprehensive range of high-end products with various flavors, different potency levels, etc.
Quality verification – reputable online cannabis brands use tested, pesticide-free, clean, non-GMO hemp material and have third-party lab reports to prove it. They keep their lab testing results listed on every product page.
Lower prices – since there are numerous online shops in Ohio, you can easily compare the prices of products to ensure you find the best deal for your budget. Aside from lower prices, many top-class brands offer promotions for new shoppers.
Convenience – online shopping allows you to buy your favorite hemp products from the comfort of your home.
The selection of delta 8 THC products in Ohio
Online and ground-based cannabis shops in Ohio offer a broad selection of hemp products, including:
Gummies – aside from being delicious, gummies offer longer-lasting effects and pre-portioned doses for consumers' convenience.
Edibles – available in various styles, sublingual edibles offer pre-measured dosing options for easier consumption.
Oils – delta-8 oil is perfect for therapeutic purposes and makes dosing as easy as possible.
Vapes – if you're looking for the fastest-acting effects, you should consider buying delta-8 vaporizers.
Fresh flower – delta-8 infused hemp flowers are ideal for traditional cannabis users who prefer smoking their buds over other consumption methods.
Conclusion
Even though delta 8 THC is still relatively new in the cannabis market, it has already become mainstream. It's almost as potent as its illegal counterpart, delta-9, and has no side effects such as anxiety, dizziness, paranoia, etc.
Because of that, delta-8 is perfect for new cannabis users and patients who need marijuana for medicinal purposes. Despite being legal in Ohio, the D8 market is still unstable. Since countless shady manufacturers are selling unsafe products, we recommend buying delta 8 THC products in the most reputable and trustworthy online shops. Online cannabis brands ensure top product quality, a broad selection, and affordable prices for cannabis consumers.
Links:
https://www.dea.gov/drug-information/drug-scheduling#:~:text=Schedule%20I%20drugs%2C%20substances%2C%20or,)%2C%20methaqualone%2C%20and%20peyote.
https://www.urmc.rochester.edu/encyclopedia/content.aspx?contenttypeid=1&contentid=1925
https://legiscan.com/OH/text/SB57/2021