Is THC Legal in Wisconsin?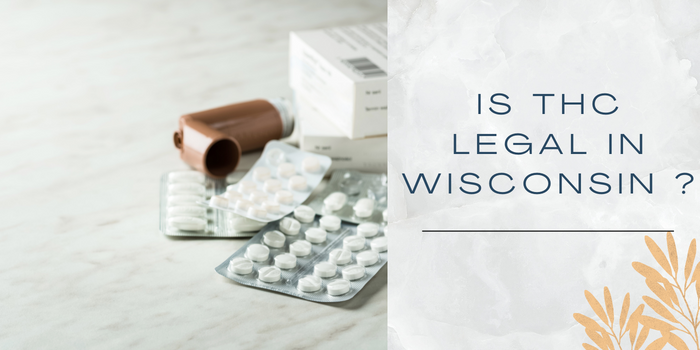 Image source: Unsplash https://unsplash.com/photos/A-rAZGIE2pA
The THC community is growing daily, and new products are released frequently as technology and science become more advanced. However, THC brands, consumers, and anyone else involved in this industry is continually struggling with one major issue – the legality of THC.
THC legislation has been one of the most talked-about topics in the US and globally. As countries keep changing laws and regulations that affect the legal status of THC, consumers worldwide need to be highly cautious about what THC products they purchase and use.
If you're currently located in Wisconsin or planning to visit this US state soon, you're surely wondering – if THC is legal in Wisconsin? Here's everything you need to know about THC law in Wisconsin.
What is THC?
Tetrahydrocannabinol, better known as THC, is the most prevalent chemical in the resin produced by the marijuana plant's glands.
THC is the compound that causes the effects of cannabis consumption because it attaches to receptors in the brain responsible for memory, thinking, coordination, time perception, and pleasure.
The effects of THC on the body vary. THC stimulates the brain to release dopamine, leading to a sense of euphoria, and can also reduce anxiety and pain, provide relaxation and sedation, and even cause temporary changes in thinking.
However, THC can also cause hallucinations and psychomotor impairment.
The legalization status of Delta-8 THC in Wisconsin law
State and federal law regulations ban the use or ownership of marijuana products because marijuana is a controlled substance. You can find it in the DEA (Drug Enforcement Agency) published in the Controlled Substances Act.
Moreover, the Controlled Substances Act prohibits using any THC product that contains more than 0.3% Delta-9 THC. Essentially, this makes cannabis illegal in Wisconsin and other US states.
Delta-8, CBD, and hemp get a pass!
However, marijuana or hemp products with less than 0.3% Delta-9 THC content aren't prohibited on a federal level, which automatically makes Delta-8 THC and CBD legal. For instance, the CBD market in Wisconsin is booming as manufacturers create countless CBD products for anxieties, seizures, and aches.
Delta-8 THC is another form of THC found in the marijuana plant. Although the similar chemical structure makes it behave almost the same way as Delta-9, the significantly lower THC content is the main reason Delta-8 THC is omitted from the Farm Bill.
Namely, the Farm Bill and the Wisconsin state law explicitly outlaw the production, possession, sale, and use of Delta-9 THC, while they do not mention anything relating to Delta-8. As a result, the legal loophole makes Delta-8 THC legal in Wisconsin.
Is medical or recreational marijuana legalized in Wisconsin law?
To buy legal THC in Wisconsin, you must know the latest state and federal law regulations updates. Although most US states legalized medicinal marijuana use, and more are taking the necessary steps to legalize recreational cannabis, that's not the case with Wisconsin.
Namely, medical and recreational cannabis use is strongly prohibited by law in Wisconsin, and lawmakers have introduced various penalties.
What are the penalties for marijuana possession?
You'll probably face charges if you get caught with cannabis in Milwaukee county or any other part of Wisconsin. Your first offense is considered a misdemeanor, so you'll get a $1,000 fine and up to six months of jail time. All subsequent offenses are felonies, so you'll face much harsher penalties.
Here's a brief overview of the penalties you could face:
possession of up to 200 grams of marijuana: up to $10,000 in fines and 3.5 years in prison;
possession of 200-1,000 grams of marijuana: up to $10,000 in fines and a 6-year sentence;
possession of 1,000-2,500 grams of marijuana: up to $25,000 in fines and a 10-years sentence;
possession of 2,500-10,000 grams of marijuana: up to $25,000 in fines and a 12.5-year sentence;
possession of more than 10,000 grams of marijuana: up to $25,000 in fines and a 15-year sentence.
Due to the harsh law, many Wisconsin residents travel to Illinois and other neighboring states to purchase or use THC, even if they have a medical card.
Image source: Unsplash https://unsplash.com/photos/rLR4smahG2Q
What type of THC products are legal in Wisconsin?
After going over the key features regarding the legal status of cannabis and industrial hemp in Wisconsin, you may wonder which THC products are legal in this US state. Below, you'll find some of the most popular Delta-8 THC products that are outstanding choices both for recreational and medicinal purposes.
THC oil
Delta-8 THC oil is a multipurpose product that is extremely popular among hemp fans. THC oil is obtained through extraction, where cannabis or hemp concentrate is separated from the rest of the content. THC oil contains terpenes and resins, so it's a product with pure content that secures one of the most potent effects.
Image source: Unsplash https://unsplash.com/photos/tCZVzr9TvxQ
THC tinctures
Delta-8 THC tinctures are often confused with THC oil, but these two are entirely different products. Although THC tinctures also come in a liquid form, their content is unique.
The cannabis plant content is soaked in an alcohol solution and strained to make a THC tincture. The liquid you receive is a THC tincture, commonly used to treat various medical conditions.
THC vapes and cartridges
The trendiest Delta-8 THC products in Wisconsin are vapes and cartridges. Since the popularity of vaping is reaching new highs, THC vapes and carts like Astroeight's Lemon Drop, Black Mamba, Wedding Cake, etc., are the best products to blend the effects of cannabis with vaping activities.
Nevertheless, carefully choosing your Delta-8 THC carts and vape pens is essential, as many people experience health issues due to the high concentration of vitamin E acetate in the vaping liquids.
THC gummies
Delta-8 THC gummies look exactly like regular ones, and they're delicious. Many individuals using hemp or cannabis for health reasons choose THC gummies since they don't require smoking or vaping to experience the beneficial effects.
Moreover, Delta-8 THC gummies are a clever way to enjoy your Delta 8 in public, even if cannabis use is illegal.
Image source: Unsplash https://unsplash.com/photos/VzXlsU2JA3A
THC flower buds
Some cannabis fans prefer traditional nicotine delivery systems, which is precisely what Delta-8 THC flower buds are for.
The large selection of Delta-8 strains allows you to experiment with different flower buds and see what effects they evoke.
Still, keep in mind that Wisconsin state law prevents citizens from using cannabis products, so you might want to stay away from consuming THC flower buds in public spots to avoid any unnecessary hassle with the state officials and authorities.
THC pre-roll joints
Delta-8 THC pre-roll joints are the perfect solution for you to enjoy smokable hemp without having to put too much effort into the process.
Astroeight's Delta-8 THC pre-roll joints like Sour Diesel, Snowcap, and O.G. Kush could be your best alternative if you aren't a fan of grinding flower buds and rolling joints. Head shops usually carry several brands of pre-roll joints, so you can find the one that suits you best.
Image source: Unsplash https://unsplash.com/photos/GHVBpTkSqfs
THC cigarettes
Like Delta-8 THC pre-roll joints, the Delta-8 THC cigarettes enable you to enjoy the benefits of THC without wasting a lot of your time in the preparation process.
Unlike traditional nicotine delivery systems, THC ones don't contain nicotine and other harmful ingredients and chemicals. Therefore, they're the perfect solution for anybody searching for a healthier alternative.
THC tablets
Delta-8 THC pills are yet another easy and discreet way to enjoy your daily dose of THC in Wisconsin without anyone suspecting a thing. You can quickly take a hemp-derived Delta-8 THC pill with a glass of water – before you know it, you'll start to feel the effects of Delta-8 THC.
THC cookies
If you aren't a gummy fan but want to enjoy some Delta-8 THC edibles, THC cookies are great. These cookies come in various flavor options, and you can't even tell Delta-8 is one of the key ingredients.
THC cookies are widely available in head shops and online dispensaries. Just like THC gummies, they're perfect for enjoying THC on the go, even if you're located in Wisconsin, where Delta 9 is illegal.
THC mods
Delta-8 THC mods are complete vaping kits that could be other forms of enjoying your THC and hemp in Wisconsin. Pre-made THC mods are perfect for beginners, while experienced vapers can build their Delta-8 THC mods.
Is it legal to produce THC in Wisconsin?
The US 2018 Farm Bill plays a vital role in the legality of THC and hemp production in Wisconsin and the entire country.
Regarding THC legality Wisconsin – industrial hemp and hemp products aren't part of the Controlled Substances Act, so they aren't controlled by the Drug Enforcement Agency or any other governing body.
However, for hemp to be considered fully legal, it can't contain more than 0.3% Delta-9 THC content. Otherwise, Wisconsin state officials can punish you based on the Farm Bill laws.
What does this mean for Delta-8 THC?
Since Delta-8 THC contains less than 0.3% Delta-9 THC, the 2018 Farm Bill allows hemp growers to grow THC and produce various THC products, as long as they follow all the state and federal law regulations.
Simply put, it's legal to produce Delta-8 THC in Wisconsin if your hemp doesn't contain more than 0.3% THC.
Can you travel to Wisconsin with THC?
If you're planning to travel to Wisconsin from Illinois or any other state where state and federal law permit cannabis use, it's crucial to say the use of cannabis products in Wisconsin is illegal.
Therefore, traveling with cannabis or any cannabis products can get you in trouble with the authorities, so you should avoid taking your THC with you at all costs.
Traveling with certain Delta-8 products is allowed!
Nevertheless, if you're sure your Delta-8 THC or hemp products don't contain more than 0.3% THC, you can travel to Wisconsin without worrying about violating the state law.
Image source: Unsplash https://unsplash.com/photos/Yv8lN1LNd6E
What are some of the reasons why the FDA is reforming THC?
State officials and the Drug Enforcement Agency are starting to realize some products' countless benefits. One such example is THC, which proved beneficial for multiple reasons.
The FDA (The US Food and Drug Administration) now studies the benefits and effects of various forms of THC, including hemp and Delta-8 THC.
Once the FDA progresses in reforming THC, more significant changes in Wisconsin cannabis laws will probably occur.
Upcoming and THC legislation in Wisconsin
As of now, Wisconsin state lawmakers aren't considering any changes regarding THC legislation.
While that means cannabis lovers won't receive a state law that allows leisure cannabis use anytime soon, it also means Wisconsin isn't planning on introducing any law changes that would affect the current legality of hemp and Delta-8 THC.
Still, we hope Wisconsin lawmakers change their minds and follow the steps of neighboring countries that have already made significant changes regarding cannabis legislation.
Conclusion
Delta-8 THC and hemp are the most popular products in Wisconsin right now to their legality. While the state doesn't allow cannabis and THC use, the 2018 Farm Bill enabled people to grow, produce, and sell hemp and hemp goodies that don't contain more than 0.3% THC.
Sources:
https://www.dea.gov/drug-information/csa
https://nida.nih.gov/publications/research-reports/marijuana/how-does-marijuana-produce-its-effects
https://www.fda.gov/news-events/public-health-focus/fda-regulation-cannabis-and-cannabis-derived-products-including-cannabidiol-cbd