Is THC-O Legal in California?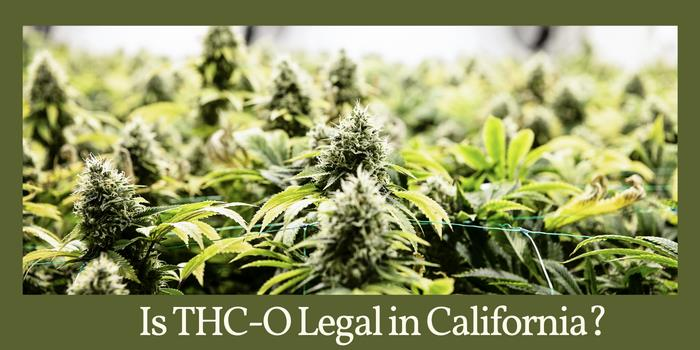 Introduction:
The cannabis plant has a long tradition and history of use. Although this particular plant faced many bans, restrictions, and use limitations throughout history, it always found a way to maintain its popularity and use, even during the most rigorous times.
Today, more and more people are curious about the cannabis industry. That doesn't only include recreational marijuana users but also researchers, scientists, and entrepreneurs, who are all looking into different aspects of this industry for a variety of reasons.
Therefore, it's not surprising to hear that scientists keep discovering new properties about this miraculous plant. The latest cannabis novelty includes THC-O, a chemical twin of natural THC.
You're in the right place if you want to hear more about what THC O acetate is and what you can expect out of this synthetic cannabinoid.
Image source: Unsplash https://unsplash.com/photos/8rfW30P1vy8
What is THC-O?
THC-O, or Tetrahydrocannabinol, is the THC's chemical twin, which means it's an ester of THC.
Therefore, THC-O isn't a natural cannabinoid. It's not derived from the hemp plant like other naturally occurring cannabinoids, such as CBD, CBN, or CBG. Although you won't find THC-O in hemp since it's a non-natural cannabinoid, there are ways to produce it.
THC-O acetate is synthesized via a chemical process that includes the use of acetic anhydride. It's a highly flammable and colorless liquid that manufacturers can make pharmaceuticals, dyes, fibers, plastics, and even explosive chemicals.
First, the Delta-8 THC is extracted from hemp. If there's not enough naturally occurring Delta-8 THC, it's possible to extract more of it by converting CBD into Delta-8.
Once that's done, the acetic anhydride is combined with the extracted Delta-8 THC molecules to get THC-O. The entire procedure is done in a specially-equipped technical lab.
Although making THC-O acetate may seem like a simple one, it's pretty dangerous because it involves the use of flammable and strong chemicals, including acetic anhydride. The production of THC-O requires plenty of knowledge and skill and specialized equipment.
What makes THC-O an excellent form of THC?
Although we need more research to determine the effects and benefits of using THC-O, cannabis users largely agree that THC-O acetate is even up to 3x more potent than Delta-9 THC.
With higher potency come more potent effects, so users typically experience more psychoactive effects than those using other synthetic cannabinoids.
Furthermore, recreational cannabis users reported the effects of THC-O acetate to have a more spiritual tone than the effects of other chemical compounds.
If you need a more potent alternative to the traditional Delta-9 THC, the psychedelic effects of the substantially similar THC-O might be the perfect solution. That's what makes THC-O an excellent form of THC.
Image source: Unsplash https://unsplash.com/photos/OJdxsFOVUu8
How is it legal to make and sell THC-O in the USA?
Another reason why so many users are turning towards THC-O is the legal status of this cannabis product.
According to the 2018 Farm Bill, people can grow, use, and sell federally legal hemp. That makes hemp-derived cannabinoids fully legal in the USA. Other hemp-derived products containing less than 0.3% THC are legal as well.
Unlike Delta-9 THC, THC-O and its products aren't a part of the Controlled Substances Act.
THC-O acetate and THC-O acetate products are pretty new on the market. Government agencies such as the Drug Enforcement Administration didn't have enough time to review the substances and decide on their legality.
That's why we could say that THC-O isn't a controlled substance, so it's legal to produce and sell in the USA.
Nevertheless, some state lawmakers introduced laws that ban psychoactive THC cannabinoids, mainly aiming at Delta-8 THC. So, THC-O could be considered illegal in states which banned Delta-8.
States where THC-O is legal to use:
If you're wondering whether THC-O is legal to use in your state, here's a list of the US states where the use of THC-O is permitted by federal law:
Alabama
California
Connecticut
Florida
Georgia
Hawaii
Illinois
Indiana
Kansas
Kentucky
Louisiana
Maine
Maryland
Massachusetts
Michigan
Minnesota
Missouri
Nebraska
Nevada
New Hampshire
New Jersey
New Mexico
North Carolina
North Dakota
Ohio
Oklahoma
Oregon
Pennsylvania
South Carolina
South Dakota
Tennessee
Texas
Virginia
Washington
West Virginia
Wisconsin
Wyoming
States where THC-O is banned:
As you can see, not all states allow the use and manufacturing of THC-O. The states where manufacturing THC-O could be considered illegal include:
Alaska
Arizona
Arkansas
Colorado
Idaho
Iowa
Mississippi
Montana
New York
Rhode Island
Utah
Vermont
However, keep in mind that this isn't set in stone, and states can introduce new laws affecting where THC-O is considered federally illegal or legal. You need to keep track of the latest state laws and always access the most up-to-date information.
Image source: Unsplash https://unsplash.com/photos/Qd37vTyByBs
How old do you have to be to buy THC-O?
Even though no federal regulations determine the minimum age required to buy THC-O products legally, 21 is generally considered the necessary age for purchasing any product coming from a marijuana plant, including THC-O.
Whether you want to visit a physical store or place an online order, purchasing THC-O is only possible if you're 21 or older.
Where to buy THC-O products in California?
California is most likely the US state with the best THC-O market.
From countless local vendors to numerous international businesses, you can find a large selection of THC-O products in stores. Visiting these shops allows you to see the products in person before buying them and even receive expert advice from knowledgeable employees.
California-based online shops are popular too. Thanks to the countless benefits of buying THC-O online, the number of customers keeps growing. More and more individuals are reaching out to online vendors to purchase their favorite THC-O products or try some new ones.
Benefits of buying THC-O online:
While you can choose between online shops and physical stores if you're located in California, it's safe to say buying THC-O online equips you with some pretty good benefits. The top four benefits you might especially like are:
Convenience
There's nothing more convenient than placing an online order. Whether you're grocery shopping, working in an office, commuting to work, or just relaxing at home, it's never the wrong time to shop for some THC-O solutions.
With the popularization of smartphones, now you can do everything you want on the go, including shopping for your favorite THC goodies online.
Additionally, your package will be delivered to your doorstep, so it's an incredibly convenient solution if you want to save time and get your goodies as quickly as possible.
Selection
There are only so many products physical stores can offer their customers since the space limits them. However, online shops don't have this issue as they often operate from large warehouses filled with all types of hemp products.
Therefore, having access to a large selection of THC-O safe products is probably one of the main reasons many people prefer buying their goodies online.
The selection is much broader, but you can also access regularly updated information concerning the availability status of all products when you purchase online.
Prices
Prices are yet another key advantage of online shops. Regular THC-O shops have to pay more employees, rent space, utility bills, and significant expenses. As a result, the products they sell typically come with an expensive price tag as all the abovementioned costs need to be covered.
Online shops have fewer employees and don't have to pay for the rent space or utility bills. Even if they do, their costs are significantly lower. Logically, lower expenses lead to lower price points, so you can enjoy better deals when shopping for THC-O online.
Privacy
Not everyone feels comfortable walking into a cannabis store in the middle of the day. Some acquaintances might judge you, or you don't want anyone to know what you're buying or how often you're visiting the particular shop.
Online shopping equips you with much-needed privacy. Whether you feel uncomfortable in public or want to keep your purchases private, a reliable online shop will never reveal your information to anyone.
Image source: Unsplash https://unsplash.com/photos/EfKS2X8uhuk
Applications of THC-O
As THC-O becomes increasingly popular among people looking for a more potent but chemically similar Delta-9 THC alternative, the applications of THC-O gradually grow in number. Right now, these are the THC-O products you can find on the market:
THC-O Vapes:
THC-O vapes are special cartridges filled with THC-O and designed to be used with vape devices. Vaping has reached the pinnacle of popularity in the past couple of years because it allows its users to enjoy rich flavors and thick clouds.
Now, you can also find numerous brands carrying THC-O vapes. Your choices are limitless – from more substantial to weaker ones, flavored or unflavored.
THC-O Gummies:
Not everyone is a fan of smokables. This is where THC-O gummies can be the ideal solution. These gummies look exactly like regular ones, but they're infused with a THC-O content to make them more potent.
Gummies are tasty and sweet, so they're the perfect product for anyone seeking to experience more potent psychoactive effects without referring to traditional smokables, especially when they're in public or on the go.
THC-O Tinctures:
Another great product is the THC-O tincture. Like gummies, THC-O tinctures are packed with the THC-O content, so they're incredibly potent.
When you look at such a tincture, it resembles cannabis oil. Its uses are also similar. You can add several drops straight into your mouth or mix them with your drink or food to conveniently take your THC-O for the day and enjoy long-lasting effects.
THC-O Distillate:
This distillate is a thick brown liquid that's a highly purified form of THC-O. Everything except the THC-O is removed from the liquid with distillation, including other cannabinoids and terpenes.
Because of that, THC-O distillate is undoubtedly the most potent form of THC-O, and it isn't recommended for beginners. However, if you're looking to boost your experience, THC-O distillate might be just the product you need.
Benefits associated with THC-O:
There are many advantages of experiencing THC-O effects. By introducing this psychedelic cannabinoid into your routine, you can:
Relieve pain
THC-O works well for relieving pain and discomfort. THC-O could be the perfect supplement to help you recover and complete your everyday activities efficiently, whether you're suffering from a severe injury or a chronic illness.
Reduce anxiety
Working on an important project or presentation can cause a lot of anxiety, especially if you're trying to meet a deadline. Luckily, THC-O is excellent at reducing anxiety and leveling out stress levels.
Boost appetite
Finally, THC-O can work as an ideal supplement to help you boost your appetite. Whether you've been under a lot of stress or have been going through harsh medical treatment, THC-O will help you get back on your feet and recover the lost strength.
Key Takeaways:
THC-O was quickly labeled as a potentially harmful and potentially toxic chemical compound by the public. Although significantly more potent than Delta-9 THC and other popular THC forms, THC-O certainly comes with its unique beneficial properties.
There are plenty of positive features surrounding this THC ester from its legality to some beneficial effects.
Reference Article:
https://cbdoracle.com/cannabinoids/thc-o-acetate/
https://area52.com/what-is-thc-o/
https://www.forbes.com/sites/dariosabaghi/2022/01/18/what-is-thc-o-acetate-and-why-is-it-getting-attention/?sh=5b25e71e5991